Singer
Age: 42
Born: 9th August, 1972, Carolina del Príncipe, Antioquia (Medellín, Colombia)
Height: 5' 8" (173 cm)
Nationality: Colombian
Relationship: Juanes is married to Karen Martínez.

Juan Esteban Aristizábal Vásquez (born August 9, 1972), better known as Juanes (for the contraction of his first and second name), is a Colombian musician who was a member of the heavy metal band Ekhymosis and is now a solo artist. In 2000, his solo debut album Fíjate Bien...Wikipedia
Latest News
Kevin Costner is joined by his wife Christine Baumgartner and their children Cayden, Hayes, and Grace while walking the red carpet at the premiere of...
hollywoodreporter
-
Feb 9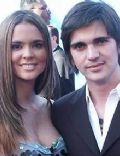 Juanes is married to Karen Martínez.
Commenced Dating: 30th November, 2001
Date Married: 6th August, 2004