marcus28

Congratulations to you, Will Smith, on your new film: Focus (2015),opening in movie theaters on Friday February 27,2015. 26 February
Comedic And Dramatic Actor, Producer, And Rapper.
Age: 46
Born: 25th September, 1968, West Philadelphia, Philadelphia, Pennsylvania, United States
Height: 6' 2" (188 cm)
Nationality: American
Claim to Fame: The Fresh Prince Of Bel Air (1990-1996).
Relationship: Will Smith is married to Jada Pinkett Smith.

Willard Carroll "Will" Smith, Jr. (born September 25, 1968) is an American actor, producer, and rapper. He has enjoyed success in television, film, and music. In April 2007, Newsweek called him the most powerful actor in Hollywood. Smith has been nominated for four Golden Globe...Wikipedia
Latest News
Over the weekend, it was announced that Scott Eastwood and Ray Olubowale are the latest to join the cast of DC and Warner Bros.' comic book...
thesuperficial
-
22 hours ago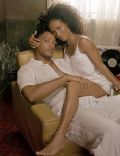 Will Smith is married to Jada Pinkett Smith.
Commenced Dating: 30th November, 1995
Date Married: 31st December, 1997