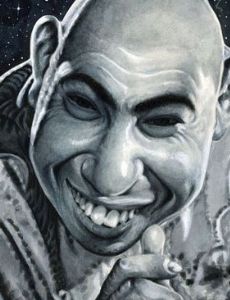 33,157
Photo Credit: thriftstorejunkie
Schlitzie (alternatively spelled "Schlitze" or "Shlitze"; September 10, 1901– September 24, 1971), possibly born Simon Metz, and legally Schlitze Surtees, was an American sideshow performer and occasional actor, best known for his role in the 1932 movie Freaks and his lifelong...Wikipedia
Age: 70 (age at death)
Born: 10th September, 1901, The Bronx, New York City, New York
Died: 24th September, 1971, Los Angeles, California, USA
Height: 4' 2" (127 cm)
Nationality: American
Claim to Fame: Freaks (1932); Famous `Pinhead`

view full details

1941'S HEADLINE MENACE! (original print media ad - all caps)
When a murder occurs on an ocean liner docked in New York, the trail leads to Coney Island and a spy ring.
In the movie Freaks (1932), Phroso the clown compliments Schlitze on "her" new dress, offering to buy "her" a new hat. Schlitze is said to have loved hats and new dresses, as well as playing with string, playing games, dancing and singing. He had a relatively developed intellect for a microcephalic, although his lines in the movie Freaks are mostly incomprehensible. Schlitze could count to ten and taught himself to imitate the tone of director Tod Browning`s voice.
Schlitze was placed in an institution after 30 years in the sideshow business, where his health began to decline sharply. Mr. Sam Alexander, a Canadian promoter, took Schlitze back on the road, where he remained on the sideshow circuit until he died at age 70 in 1971.
Schlitze Fans Also Viewed
Top Contributors