eviltwins

tagged

Tarja Turunen

with

tarja turunen 2014

21 November 2014

eviltwins

tagged

Tarja Turunen

with

Tarja Turunen Roadie Crew

21 November 2014

I feel very comfortable with Once because I have tried to change my singing style with Nightwish already since Century Child because Tuomas requested that, the songs requested that ... It has been hard work and I didn't manage to do that on Century Child, I was not very happy with it. On Once it's all very natural, how I'm singing and what I'm singing. But as I said, it has been really hard work because I've been a classical singer for the last ten years so it was hard to start over again and think of different styles. Of course I'm always singing with my classical techniques, I never sing with my poor speaking voice – I cannot do that anymore.
—Tarja Turunen, Metal Temple interview, October 2004

Now that I can use the whole range of my voice, it feels very nice. I have never sung so low as I did on one of the songs on the new record and there's a song on which I sang my highest notes ever! I really have used a huge range on this album – around three octaves – because the moods are changing in every song and this reflects that.
—Tarja Turunen, Kerrang! interview, September 2007

Her first independent album, My Winter Storm, was released on November 2007, and achieved gold status in Finland on the day of release.
Singer, Songwriter, Composer
Age: 37
Born: 17th August, 1977, Kitee, Finland
Height: 5' 5" (165 cm)
Nationality: Finnish
Claim to Fame: original member and former female vocalist of Finnish metal band Nightwish
Relationship: Tarja Turunen is married to Marcelo Cabuli.

Tarja Soile Susanna Cabuli (née Turunen; born August 17, 1977), generally known as Tarja Turunen or simply Tarja, is a Finnish singer-songwriter. She is a light lyric soprano and has a vocal range of three octaves. Wikipedia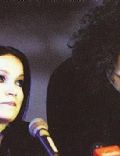 Tarja Turunen is married to Marcelo Cabuli.
Commenced Dating: 30th November, 1999
Date Married: 8th May, 2003