eviltwins added a news story
14 January 2014

14 views

Roy Allen

Nov 21, 2013

Willie I love your music and wish I could meet you in person one day.
Musician, songwriter, producer, actor, activist
Age: 81
Born: 29th April, 2015, Abbott, Texas
Height: 5' 6" (168 cm)
Nationality: American
Claim to Fame: Prolific alternative country artist who`s released over 200 albums during his decades long career
Relationship: Willie Nelson is married to Annie D'Angelo.

Willie Hugh Nelson (wɪli nɛlsən; born April 29, 1933) is an American singer-songwriter, musician, guitarist, author, poet, actor, and activist. The critical success of the album Shotgun Willie (1973), combined with the critical and commercial success of Red Headed Stranger...Wikipedia
Latest News
Joni Mitchell was taken to the hospital after being found unconsious at her home. [Dlisted]
Leonardo DiCaprio & Tom Hardy are hot tub buddies....
celebitchy
-
16 hours ago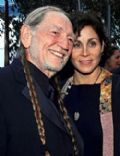 Willie Nelson is married to Annie D'Angelo.
Commenced Dating: 30th November, 1986
Date Married: 16th September, 1991