Cymphonique Miller, Master P, Lil' Romeo. Tyler Perry's Madea's Witness Protection New York Premiere Photo credit: PNP / WENN

Top 20 Richest rappers :)
20.Rick Ross
19. T-Pain and T.I.
18.Nelly
17.Busta Rhymes
16.Ludacris 
15.Beastie Boys 
14.Timbaland 
13.Pharrell...
Rapper, Actor, Writer
Age: 47
Born: 29th April, 1967, New Orleans, Louisiana, USA
Height: 6' 3" (191 cm)
Nationality: American
Claim to Fame: CEO of No Limit Records
Relationship: Master P is married to Sonya Miller.

Percy Robert Miller (born April 29, 1967) known by his stage name Master P or his business name P. Miller, is an American rapper, actor, entrepreneur, investor, author, filmmaker, record producer, philanthropist. He is the founder of the label No Limit Records, which went...Wikipedia
Latest News
The Miller family returned to New Orleans to film scenes from their upcoming family-centered reality show.  Check out Master P, Romeo and &...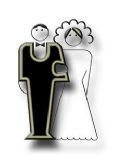 Master P is married to Sonya Miller.
Commenced Dating: 30th November, 1990
Date Married: 30th November, 1990