It'll Be a Girl for Terri Seymour

There will soon be an extra touch of pink in Terri Seymour's house!
The baby the Extra correspondent is expecting with Clark Mallon is a...
Singer, Songwriter, Musician, Actress
Age: 35
Born: 8th September, 1979, Doylestown, Pennsylvania, USA
Height: 5' 4" (163 cm)
Nationality: American
Claim to Fame: 'Can't Take Me Home' Single
Relationship: Pink is married to Carey Hart.

Alecia Beth Moore (born September 8, 1979), better known by her self-stylized stage name (pronounced Pink), is an American singer, songwriter, and actress. Originally a member of the girl group Choice, she rose to fame as an R&B artist with her debut solo album, Can't Take Me...Wikipedia
Latest News
Iggy Azalea's very popular with the kiddies today, thanks to her radio-friendly duets with pop artists. So it wasn't surprising to see...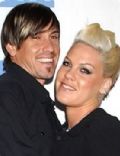 Pink is married to Carey Hart.
Commenced Dating: 31st December, 2000
Date Engaged: 26th June, 2005
Date Married: 7th January, 2006