Bruce Campbell in the Evil Dead 1981

The blood in the film looked like ketchup to me, and the guts pulled from demon stomachs in this film looked like ground round hamburger meat.

But...

Actress Jane Levy has a brand new fan: me. I was scared this was going to be a bad remake but it was so very good. Anyway Bruce Campbell, who played...
Actor, author, producer, writer, director
Age: 56
Born: 22nd June, 2015, Royal Oak, MI
Height: 6' 1" (185 cm)
Nationality: American
Claim to Fame: Evil Dead
Relationship: Bruce Campbell is married to Ida Gearon.

Bruce Lorne Campbell (born June 22, 1958) is an American film and television actor, director, writer, producer and author. As a cult film actor, Campbell is best known for his role as Ash Williams in Sam Raimi's hit Evil Dead series of films and he has starred in many low-budget...Wikipedia
Latest News
 
In 2013's Lee Daniels' The Butler, Alan Rickman portrayed Ronald Reagan with a distinct subtlety that never dipped into total...
ropeofsilicon
-
5 days ago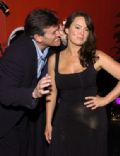 Bruce Campbell is married to Ida Gearon.
Commenced Dating: 30th November, 1989
Date Married: 30th November, 1990