Musician, astrologist, animals welfare activist
Age: 67
Born: 19th July, 2015, Hampton, Middlesex, England
Height: 6' 2" (188 cm)
Nationality: English
Claim to Fame: Guitarist for Queen
Relationship: Brian May is married to Anita Dobson.

Brian Harold May (born 19 July 1947) is an English musician, singer, songwriter and astrophysicist who achieved international fame as the lead guitarist of the rock band Queen. He uses a home-built guitar, the Red Special. His compositions for the band include "We Will Rock...Wikipedia
Latest News
How will you remember Sprint's Unlimited $50 Plan?
A better question might be: how will you ever forget it?
Sprint's latest campaign...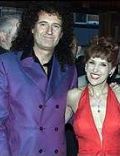 Brian May is married to Anita Dobson.
Commenced Dating: 30th November, 1987
Date Married: 18th November, 2000