Musician, Singer, Songwriter
Age: 41
Born: 20th June, 1973, Sacramento, California, USA
Height: 5' 9" (175 cm)
Nationality: American
Claim to Fame: Frontman of Deftones
Relationship: Chino Moreno is married to Risa Mora.

Chino Moreno (born Camillo Wong Moreno; June 20, 1973) is an American musician. He is best known as the lead vocalist and contributing guitarist of Deftones. He is also a member of the side-project groups Team Sleep, Crosses, and Palms. Wikipedia
Latest News
Every year Coachella is known for having it's own unique memorable music moments. Whether it's catching local acts such as Haim, recent...
huffingtonpost
-
Apr 22, 2014
buzzworthy
-
Mar 18, 2014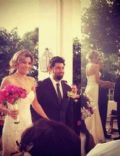 Chino Moreno is married to Risa Mora.
Commenced Dating: 30th November, 2009
Date Married: 7th March, 2012