Model, Actress, Dancer, Web personality
Age: 36
Born: 17th March, 1979, Tarzana, California.
Height: 5' 2" (157 cm)
Nationality: American
Claim to Fame: Angel Blade
Relationship: Coco Austin is married to Ice-T.

Nicole Natalie Marrow (née Austin; born March 17, 1979), commonly known as Coco Austin, Coco, Coco Marie Austin, Coco Marie, Coco-T, is an American actress, dancer, glamour model and web personality. She has been married to rapper-actor Ice-T since 2001. Wikipedia
Latest News
View the Gallery / 
                31 Photos »
                    
    


Amber Rose is pretty much in a category of her own this week on...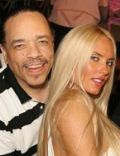 Coco Austin is married to Ice-T.
Date Married: 31st December, 2001