Guitarist, Songwriter, Composer, Enterpreanur
Age: 42
Born: 10th November, 1972, Monticello, Indiana, USA
Height: 5' 7" (170 cm)
Nationality: American
Claim to Fame: Guitarist for Sixx: A.M. and Guns N' Roses
Relationship: DJ Ashba is married to Natalia Henao.

Daren Jay "DJ" Ashba (born November 10, 1972) is an American musician, producer, songwriter and CEO of Ashba Media. He is one of the lead guitarists in Guns N' Roses (along with Ron "Bumblefoot" Thal) and the lead guitarist in Sixx:A.M. He is also known for his work with hard...Wikipedia
Latest News
Another member DJ Ashba also adds that everyone in the band has been recording ideas in their home studios and passing them around to each other.
aceshowbiz
-
Apr 25, 2014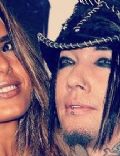 DJ Ashba is married to Natalia Henao.
Commenced Dating: 31st August, 2012
Date Engaged: 31st July, 2013
Date Married: 23rd September, 2013